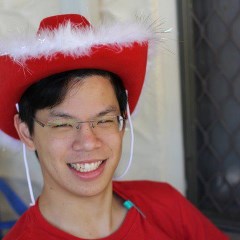 I'm Li-aung "Lewis" Yip, from Queensland, Australia.
I'm a power electrical engineer. That means that I measure voltage in kilovolts, power in megawatts, and my favourite numbers are √3 and i. My work involves:
Power system analysis. (I simulate things blowing up.)
Power systems protection. (Sensors that detect when things are blowing up.)
Designing, building, operating, upgrading, and maintaining electrical transmission and distribution assets. (Which hopefully won't blow up.)
My three superpowers are: making computers do what I want, drawing really good diagrams, and beating Microsoft Office until it submits to my will.
I geek out about science, engineering, and IT. I'd buy a lathe, mill and welding set right now, if only I had a place to put them.
I'm "internet famous" for things I've done in Minecraft, and my thesis on Online Empirical Mode Decomposition.
Other places to find me
Stack Exchange
GitHub

kooltou - Backup Microsoft Outlook to .msg files. (Python; compiled .exe for Windows end users.)
cat-herder - A command line tool for updating Minecraft servers based on ATLauncher modpacks. (Python.)

DeviantART (abandoned)
"Maintaining a large range of agilities mental and physical requires regular exercise […]. That is why the capable are always busy." - Edgser Dijkstra, 1996.
---
Meta
My website tries to be like Sam Hughes', Manfred Mornhinweg's, Russ Cox's, and J. B. Calvert's.
Plain. No distractions.
Full of things that are:

Written by me.
One or more of: useful, interesting, entertaining.
About science, technology, engineering, math.
Not listicles.

A good citizen of the internet. (Small page sizes. HTTPS.)